It's no big secret that many employees are embracing hybrid and remote support work models. Even though employers are hoping to have their teams back on premises at a rate nearly three times that of the desire of employees, the trend for remote work freedom has evolved into the status quo.
What isn't often considered is how this shift affects the customer experience. With so much competition for practically every niche market, the need to differentiate your brand by offering bespoke and personalized customer relationships is essential to success.
An excellent way to solidify your competitive advantage is by offering comprehensive remote support for training, meetings, demonstrations, and any other customer experience.
The Growth of Connected Customers
Business Insider predicts nearly 41 billion IoT (internet of things) devices by the end of 2027. Why does this matter to remote support? As the product expansion of connected and digital devices continues, customers will expect proper remote support technology to handle everything from repairs to retail interactions.
Finding a way to meet these needs requires modern remote support solutions. In addition, technicians and support agents need to be able to resolve any issues these products will bring to the table.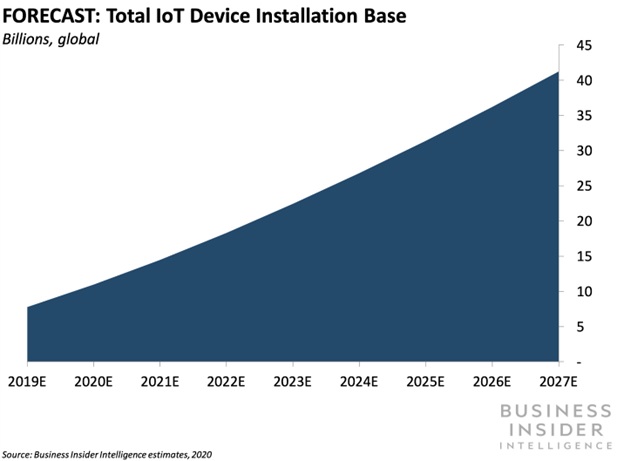 (Image source: https://i.insider.com/5e627bdafee23d1f7f6ce502)
The same is accurate for meetings. Prior to the global pandemic, remote technology was being integrated into regular business, corporate, and organizational online meetings at a rate of roughly 8-10%.
Since 2020, that rate has accelerated dramatically to 77%. The hard truth is having the capabilities to not only meet online but take advantage of tools that share vital information concerning operations is critical to achieving goals.
This is directly affecting the customer experience. Consumers are just as happy to interact with a brand via an online meeting as there were in the past via in-person. This is because remote support provides a far more cost-efficient, timely, and simplified interaction customers cherish. The more your brand can deliver this experience to consumers, the greater the opportunity for transforming mildly interested leads into loyal brand ambassadors.
How Remote Support Benefits Customers
While there are numerous reasons to implement comprehensive remote support integrations for your business, there are equally many benefits to the customer experience. Some of these include:
1 – Increased Efficiency
More than 73% of consumers expect companies to understand their unique needs. That can be a significant roadblock when you're trying to manage a larger business with a fixed number of team members. Using remote support increases the rate of your interactions so you can spend more time focused on the unique needs of each client instead of having to physically move around to multiple locations.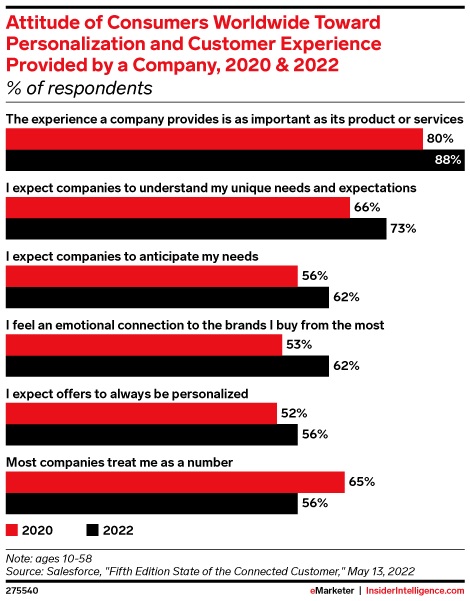 (Image source: https://www.insiderintelligence.com/content/most-consumers-want-brands-personalize-their-communications)
2 – Price Availability
The less money you must spend on overhead costs and management, the more you can move your price to be competitive in the marketplace. This type of retail competition directly benefits the customer experience because they see a more reasonable price to value. In other words, better prices because of fewer expenses means higher profits and more customer demand.
You lower your operational costs when you can use remote support to reduce your workforce or accommodate remote team members. This means way more room to increase or decrease your price points whenever your competition tries to snag your market share.
3 – Time Flexibility
Probably the most significant reason for integrating remote support into your operations is the flexible timing. With so many international hybrid workers and team members meeting across a wide range of time zones, having the remote capability to connect and interact is vital. With the availability of digital tools such as IVR solutions and software to create electronic signatures for free, it is now easy for organizations to set up a diversified customer support team functioning round the clock.
This is equally important for those customers that want to learn more about what your brand is offering but may not be able to get to a physical location during regular open hours. Imagine how much relief and appreciation a customer will get when they can learn more about your services, products, or support benefits on a weekend or after banking hours.
4 – Support from Anywhere
Let's paint a quick picture. Say you have purchased a new customized laptop to handle your growing engineering business. This laptop can only be repaired by the seller's support team to ensure the warranty stays intact.
Now you go on a business trip and experience an error with the laptop, but you cannot get it fixed at the local shop because you are too far away, and your deadline is rapidly approaching. With the included remote support package, the company can address your needs and even access your device to make repairs so you can continue your business operations.
That idea of valuable support anytime, anywhere is a high-value attribute any brand should offer to the rapidly growing consumer demand for access.
5 – Increased Happiness
Customers get a more rewarding experience from your remote support team because your workers are happier performing their job roles. Productivity is so high among remote workers that the Harvard Business Review shows your business gains the productivity of an extra workday every week.
That means your team is significantly more satisfied with remote work scenarios, and that positivity directly impacts the experience of consumers with your brand. Happier remote customer support workers put in more effort to meet customers' needs. They, in turn, spread the good word about your brand, and new growth opportunities are presented.
ShowMyPC Increases Remote Support
The challenge of offering remote support capabilities to your customers is having the technology in place, so you can reliably meet consumer demand. That is where ShowMyPC can help. With a multi-tiered service plan offering, you can improve your customer experience by offering:
Web-Based Sharing – Perfect for meetings, product interaction, and screen sharing across Windows, Mac, and Linux systems, all within a browser – cutting down on customers' need to download additional tools.

Maintain Brand Identity – Integrate your remote support with the well-known branding visuals that your customers associate with good experiences.

Video Conferencing – Create meeting rooms, chats, and share screens with a reliable system.

Increased Security – optional 2FA (two-factor authentication) for more sensitive meetings.

And much more!
You can even use a full API integration to include the power of ShowMyPC into your applications or websites.
The point is the technology needed to enhance your remote support capabilities is already here. This way, a real estate agent on one side of the world can conduct in-depth sales with clients on the other side of the world. Or an IT team in Europe can meet the needs of a California startup to ensure everything is operational when they first hit the market.
Whether you need to virtually demonstrate your upcoming product model to an investor or conduct a sensitive meeting among your healthcare team, ShowMyPC provides all the capabilities, technology, security, and easy-to-use remote support necessary to improve your brand-to-customer experience.

Learn more by visiting ShowMyPC.com today and trying out the system. With a 14-day trial, you have nothing to lose and everything to gain to meet today's fast-paced online marketplace!